We were tagged way back in August of 2015 for this…. Can you tell I've started to dig into my tags? 😉 In any case, thanks so much to Tasha @ Head in the Clouds, Heart in the Books for the tag! It looks super fun, and I can't wait to get started!
Essentially, you pick some books (generally fairly well-known) that you know little to nothing about, and guess what they're about based on the cover and title. And then compare your guess with the actual synopsis and see how badly you failed compare the two!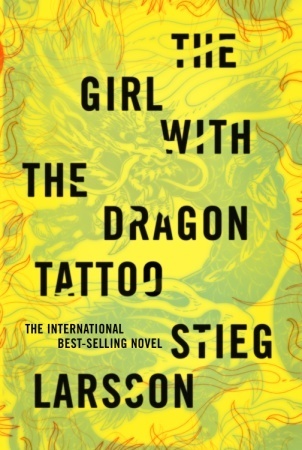 I actually mentioned the fact that I don't know this book at all in my Six Degrees of Separation post. Which is kind of insane, as everyone always talks about it.
Lena has always been mysterious. Since the day I first laid eyes on her, I've been in love with her. Ever since, I've been following her. I can't help it, she's just so entrancing. I don't know what my life would be without her. I've been with her through everything- when she moved cross-country, when her brother killed himself, when she came out as bisexual, when she proposed to Sam, at her wedding, even at Sam's funeral. But never has she ever given me any clue about her dragon tattoo. It's been there forever, and I don't know her as a person without it. Now that she's learning to fight with the Chinese, I hope to glean more information about it. Because I can't rest. Not until I figure out Lena's secret, why she's so perfect. How she cast this spell over me. And then I can finally kill her.
Okay…. I somehow doubt the book has anything to do with THAT. I have no idea where that came from! Let's see the real thing:
Mikael Blomkvist, a once-respected financial journalist, watches his professional life rapidly crumble around him. Prospects appear bleak until an unexpected (and unsettling) offer to resurrect his name is extended by an old-school titan of Swedish industry. The catch—and there's always a catch—is that Blomkvist must first spend a year researching a mysterious disappearance that has remained unsolved for nearly four decades. With few other options, he accepts and enlists the help of investigator Lisbeth Salander, a misunderstood genius with a cache of authority issues. Little is as it seems in Larsson's novel, but there is at least one constant: you really don't want to mess with the girl with the dragon tattoo. (Goodreads)
Obviously, that was about as far-off as it gets. The actual book sounds interesting, though; I may have to pick it up sometime!
Everyone and their mother has read at least one of Sarah Dessen's books. And I own two. And have read exactly zero. Yikes.
He loves me…

Hailey has always loved her boyfriend, Stephen. And until recently, she never doubted his feelings for her.

He loves me not.

He's become distant and moody, and never wants to talk or spend time with Hailey. Could there be another girl?

He loves me…

But there was that one time, in Summer's poolhouse, when he might have said it. The "L" word. If the guys hadn't charged in, he would have. Right?

He loves me not.

What if it isn't a girl? What if… It's a guy?

He loves me…

If only-

He loves me not.
Oo la la! I saw the model picking the petals off of the flower, and I just decided to go in that direction. Because obviously I have heard of Sarah's reputation. It's a contemporary romance. Right???
A long, hot summer…

That's what Macy has to look forward to while her boyfriend, Jason, is away at Brain Camp. Days will be spent at a boring job in the library, evenings will be filled with vocabulary drills for the SATs, and spare time will be passed with her mother, the two of them sharing a silent grief at the traumatic loss of Macy's father.

But sometimes, unexpected things can happen—things such as the catering job at Wish, with its fun-loving, chaotic crew. Or her sister's project of renovating the neglected beach house, awakening long-buried memories. Things such as meeting Wes, a boy with a past, a taste for Truth-telling, and an amazing artistic talent, the kind of boy who could turn any girl's world upside down. As Macy ventures out of her shell, she begins to question her sheltered life.

Is it really always better to be safe than sorry? (Goodreads)
Hmmm… That sounds interesting! Well, I think I'm going to leave it at two books, in the hopes that this post doesn't get unbearably long. 😉 Aaaaaand I challenge:
And of course, don't feel obligated to do this! No pressure. As you can see, it's taken me quite a while to do mine. XD If you do decide to do it, please let me know! I'd love to see it! 🙂
I hope you all enjoyed this quirky little tag! Let me know down below what you thought of the idea, or my synopsis(es?)! Have you read either of these books? What's your favorite Sarah Dessen book? Which do you think I should read first? Tell me in the comments, I'd love to hear from you! 🙂
Lots of Love, Amy ❤