Hey guys! Last week I started this meme and was able to get rid of 50% of the books that I selected, so I definitely wanted to do it again! I think I'm going to make this a weekly endeavor, most likely on Mondays. In case you missed the last one, here's the run-down on what this meme's all about:
Down the TBR Hole is a (very) bookish meme, originally created by Lia @ Lost In A Story. She has since combed through all of her TBR (very impressive) and diminished it by quite a bit, but the meme is still open to others! How to participate:

Go to your Goodreads to-read shelf
Order by Ascending Date Added
Take the first 5 (or 10 if you're feeling adventurous) books. Of course if you do this weekly, you start where you left off the last time.
Read the synopses of the books
Decide: keep it or let it go?
Let's just get right into it, shall we?
In the majestic halls of a crystal palace lies a secret that could destroy an entire kingdom…

Bryn Aven refuses to give up on her dream of serving the kingdom she loves. It's a dream that brings her to a whole new realm…and the glittering palace of the Skojare.

The Skojare people need protection from the same brutal enemy that's been threatening the Kanin, and Bryn is there to help. Being half Skojare herself, it's also a chance for her to learn more about her lost heritage. Her boss, Ridley Dresden, is overseeing her mission, but as their undeniable attraction heats up, their relationship is about to reach a whole new level—one neither of them is prepared for.

As they delve deeper into the Skojare world, they begin to unravel a long-hidden secret. The dark truth about her own beloved Kanin kingdom is about to come to light, and it will change her place in it forever…and threaten everyone she loves.
This is actually the sequel to Frostfire, which I read ages ago and really loved. However, the reason I haven't read this one yet is because after I read Frostfire, I found out that this was supposed to be a "sequel series" of sorts. I haven't gotten around to reading the first series yet, and I've now completely forgotten the contents of Frostfire, so this one is quite easy. It can go!
Alice doesn't believe in luck—at least, not the good kind. But she does believe in love, and for some time now, she's been pining for her best friend, Teddy. On his eighteenth birthday—just when it seems they might be on the brink of something—she buys him a lottery ticket on a lark. To their astonishment, he wins $140 million, and in an instant, everything changes.

At first, it seems like a dream come true, especially since the two of them are no strangers to misfortune. As a kid, Alice won the worst kind of lottery possible when her parents died just over a year apart from each other. And Teddy's father abandoned his family not long after that, leaving them to grapple with his gambling debts. Through it all, Teddy and Alice have leaned on each other. But now, as they negotiate the ripple effects of Teddy's newfound wealth, a gulf opens between them. And soon, the money starts to feel like more of a curse than a windfall.

As they try to find their way back to each other, Alice learns more about herself than she ever could have imagined…and about the unexpected ways in which luck and love sometimes intersect.
I still find the premise of this book to be super cute, but I was on the fence about this one, so of course I ventured into the land of reviews to make my decision. Overall, it sounds like most people enjoy this book, but it's not very memorable and full of cliches. I'm pretty sure that tends to be Jennifer E. Smith's writing style (not that that's a bad thing- I've read one or two of her books before and enjoyed them for their cuteness!), but long story short, I just don't think I desperately need to read this one. If I desperately want it later for a fluffy read, I can easily find it again. For now, it can go!
Seventeen-year-old Cassie is a natural at reading people. Piecing together the tiniest details, she can tell you who you are and what you want. But it's not a skill that she's ever taken seriously. That is, until the FBI come knocking: they've begun a classified program that uses exceptional teenagers to crack infamous cold cases, and they need Cassie.

What Cassie doesn't realize is that there's more at risk than a few unsolved homicides—especially when she's sent to live with a group of teens whose gifts are as unusual as her own. Sarcastic, privileged Michael has a knack for reading emotions, which he uses to get inside Cassie's head—and under her skin. Brooding Dean shares Cassie's gift for profiling, but keeps her at arm's length.

Soon, it becomes clear that no one in the Naturals program is what they seem. And when a new killer strikes, danger looms closer than Cassie could ever have imagined. Caught in a lethal game of cat and mouse with a killer, the Naturals are going to have to use all of their gifts just to survive.
To state the obvious, this one has been on my TBR for AGES. And for good reason: It. Sounds. AMAZING. All my Goodreads friends have apparently loved it, and I have zero idea why I haven't read it yet. If I wasn't already swamped in books, I'd order it from my library right now! I'm definitely keeping this one!
In the epic next chapter of Soman Chainani's New York Times bestselling series, The School for Good and Evil, everything old is new again as Sophie and Agatha fight the past as well as the present to find the perfect end to their story.

*Much spoilers for previous two books; I'm not a monster so I shan't put it in here*
That was about all of the synopsis I could put in before spoilers came in full force. Anyhoo, obviously I've read the first two books in this series! I have to say, I absolutely LOVED this series. It's an amazing concept and I thought the writing was fabulous. However, I've completely forgotten the first two, and it appears that there is a "fourth" book coming out in September. Therefore, this one can go… Temporarily, but I'm replacing it with the first one! I'll count it as a keep.
Newbery Medalist Creech ("Walk Two Moons") masterfully weaves this story, told in free verse, about a young girl finding her identity and learning how it fits within the many rhythms of life.

Run run run.

That's what twelve-year-old Annie loves to do. When she's barefoot and running, she can hear her heart beating . . . thump-THUMP, thump-THUMP. It's a rhythm that makes sense in a year when everything's shifting: Her mother is pregnant, her grandfather is forgetful, and her best friend, Max, is always moody. Everything changes over time, just like the apple Annie's been assigned to draw. But as she watches and listens, Annie begins to understand the many rhythms of life, and how she fits within them.

Twelve-year-old Annie ponders the many rhythms of life the year that her mother becomes pregnant, her grandfather begins faltering, and her best friend (and running partner) becomes distant.
When I first realized this book would be on the list for this week, I figured it would be an easy throw-out. But as soon as I read the synopsis, I was sold at free verse. I love books written in free verse and the entire premise of this book sounds amazing. I'll definitely keep this one!
Daring mission… or deadly mistake?

Winter has been a disappointment to his royal IceWing family his whole life. When his sister, Icicle, runs away from Jade Mountain Academy, fleeing terrible crimes and possibly planning to commit more, Winter knows that they both need a second chance to make things right — if only he can find her.

Winter's new clawmates, Moon, Qibli, and Kinkajou, won't let him make this dangerous journey alone. They don't seem to understand that IceWings, the most superior of all dragon tribes, can fix their own problems. When their search leads the dragonets straight into Queen Scarlet's vicious talons, Winter is grateful to have some help. But even the bravest dragons can't follow him to the Ice Kingdom, where he'll have to face the greatest threat of all: his own family.
This is the seventh book in the Wings of Fire series. I completely loved the first six, but I read them a really long time ago, and you can only keep up with these never-ending kid's series for so long! Even though I definitely recommend the ones I've read in the series to any kids looking for a good dragon book, I'm going to say this one can go.
Wilhelmina has a hundred identities.

She is a princess. When the Indigo Kingdom conquered her homeland, Wilhelmina and other orphaned children of nobility were taken to Skyvale, the Indigo Kingdom's capital. Ten years later, they are the Ospreys, experts at stealth and theft. With them, Wilhelmina means to take back her throne.

She is a spy. Wil and her best friend, Melanie, infiltrate Skyvale Palace to study their foes. They assume the identities of nobles from a wraith-fallen kingdom, but enemies fill the palace, and Melanie's behavior grows suspicious. With Osprey missions becoming increasingly dangerous and their leader more unstable, Wil can't trust anyone.

She is a threat. Wraith is the toxic by-product of magic, and for a century using magic has been forbidden. Still the wraith pours across the continent, reshaping the land and animals into fresh horrors. Soon it will reach the Indigo Kingdom. Wilhelmina's magic might be the key to stopping the wraith, but if the vigilante Black Knife discovers Wil's magic, she will vanish like all the others.
This one was a really hard decision! First of all, I have to say the cover just bothers me (not technically relevant but, I mean, when is it not). And second of all NO ONE CAN AGREE IS THIS AMAZING OR TERRIBLE. But they all say the cliffhanger is devastating. Who can argue with that? It's at my library, I'm a sucker for predictable fantasies (especially the ones with the actually-present best friend)… I think I'm going to keep it! (But please let me know what you think of this one in the comments; that's super tentative and susceptible to change!)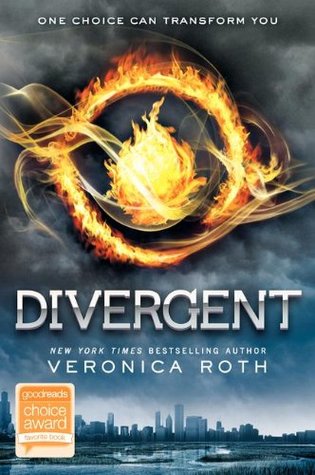 In Beatrice Prior's dystopian Chicago world, society is divided into five factions, each dedicated to the cultivation of a particular virtue—Candor (the honest), Abnegation (the selfless), Dauntless (the brave), Amity (the peaceful), and Erudite (the intelligent). On an appointed day of every year, all sixteen-year-olds must select the faction to which they will devote the rest of their lives. For Beatrice, the decision is between staying with her family and being who she really is—she can't have both. So she makes a choice that surprises everyone, including herself.

During the highly competitive initiation that follows, Beatrice renames herself Tris and struggles alongside her fellow initiates to live out the choice they have made. Together they must undergo extreme physical tests of endurance and intense psychological simulations, some with devastating consequences. As initiation transforms them all, Tris must determine who her friends really are—and where, exactly, a romance with a sometimes fascinating, sometimes exasperating boy fits into the life she's chosen. But Tris also has a secret, one she's kept hidden from everyone because she's been warned it can mean death. And as she discovers unrest and growing conflict that threaten to unravel her seemingly perfect society, she also learns that her secret might help her save those she loves . . . or it might destroy her.
To be clear, I have read this before- this is just a "want-to-re-read" book. However, as I said in my post about books I'm changing my rating for, I honestly don't think I would enjoy this one all that much if I read it again, and I don't feel the need to spend time rereading the entire series just to come to the same conclusion. This can go!
Phaet Theta has lived her whole life in a colony on the Moon. She's barely spoken since her father died in an accident nine years ago. She cultivates the plants in Greenhouse 22, lets her best friend talk for her, and stays off the government's radar.

Then her mother is arrested.

The only way to save her younger siblings from the degrading Shelter is by enlisting in the Militia, the faceless army that polices the Lunar bases and protects them from attacks by desperate Earth dwellers. Training is brutal, but it's where Phaet forms an uneasy but meaningful alliance with the preternaturally accomplished Wes, a fellow outsider.

Rank high, save her siblings, free her mom:  that's the plan. Until Phaet's logically ordered world begins to crumble…
This synopsis actually sounds super interesting (which I'm sure is why I added it in the first place), but I checked it out from my library one time and just never got into it. I started it but didn't get very far. Honestly, I can't see myself having any better luck checking it out again. As none of my Goodreads friends have read it and everyone else doesn't seem to be overwhelmed with how amazing it is, I think I'm going to have to let it go.
Can there truly be love after death?

Drifting in the dark waters of a mysterious river, the only thing Amelia knows for sure is that she's dead. With no recollection of her past life—or her actual death—she's trapped alone in a nightmarish existence. All of this changes when she tries to rescue a boy, Joshua, from drowning in her river. As a ghost, she can do nothing but will him to live. Yet in an unforgettable moment of connection, she helps him survive.

Amelia and Joshua grow ever closer as they begin to uncover the strange circumstances of her death and the secrets of the dark river that held her captive for so long. But even while they struggle to keep their bond hidden from the living world, a frightening spirit named Eli is doing everything in his power to destroy their newfound happiness and drag Amelia back into the ghost world . . . forever.
I actually (finally) bought this one a few months ago, so that definitely sways my opinion. Based on the synopsis alone, I'm not absolutely DYING to read this one, but none of my Goodreads friends have read this one either! The reviews seem to be full of people who hated it, but the overall rating is extremely positive. And the cover is SO COOL. Since I own it, I think I'm going to say I'll keep it, but again, let me know what you think of this one! I can always do a giveaway or sell it in a garage sale. 🙂
---
Whew! I just counted, and just like last time, I was able to get rid of 5 out of the 10 books I combed through! That's a steady 50 percent. If it continues to go like this, I'll be done in no time! Anyhoo, as I mentioned about a couple of these, please let me know in the comments if I'm making a huge mistake: If I've gotten rid of one of your favorite books, or I'm keeping a dreadful bore. And hey, if you're not my Goodreads friend yet, why not? I honestly don't have that many, and there's plenty of you! 😉 I definitely appreciate looking at my friend's reviews to decide on whether (and when) to read a book or not. So you should be one! 😉 Alas, I hope you all enjoyed this meme, and feel free to join in!
Lots of Love, Amy ❤
Save